Agatti Island Resort - Hotels Lakshadweep
The island covers 2.7sq.km and is special for the fact that it has Lakshadweep's sole airport. The climate is good and this six-kilometre-long island is best known for the Agatti Island Beach Resort.

To the north of Agatti you can spot Bangaram, a teardrop-shaped island. Agatti is the only island in Lakshadweep which has a major tuna fishing centre. It is also known for its five satellite uninhabited islands.

Agatti Island Beach Resort has on offer beautiful coral reefs, turquoise blue lagoons, silvery beaches and lush green coconut palms. The resort has some of the best swimming beaches in the world. The resort has a lagoon in the front, and it is huge, shallow, and can be used to swim.

The restaurant at the beach resort serves continental, Chinese and local cuisine. Jain food is also available here. Guests can dine inside or on the beach. If you're an expert fisher, catch your own and the chef will cook it for you according to your tastes.

Agatti Island Beach Resort offers 9 beach huts and 10 beach bungalows. They are set back about 50 yards from a sandy bay, with a restaurant. The cozy and comfortable cottages come in two types – Standard Cottages and Deluxe Cottages. Standard cottages are located on the beach in between the coconut trees. Deluxe cottages are located on the beach and they face the lagoon. All cottages overlook the beautiful beach and lagoon and are eco-friendly.

The resort has facilities for arranging business conferences for up to 40 people. It has also has laundry, fax and Ayurveda facilities and services. Excursions to nearby islands and reefs can be arranged by the hotel. Water sports such as kayaking, glass bottomed boating, canoeing, snorkeling, scuba diving, lagoon cruising and water skiing are available.
Sponsored Links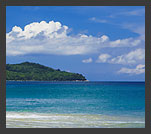 Cruise Destination
Cruise destinations across the
world range from the exotic Caribbean and the Mediterranean
to the Middle East and as far as Alaska. The cruise type varies
from country to country..