Water Sports Lakshadweep
Lakshadweep's expanse of sand and the blue waters beyond promise a lifetime of adventure activities. Water sports are what come to your mind when we mention adventure sports in Lakshadweep.

Diving and snorkeling provide for some entertainment to those who love to explore the seas and beyond. On a unusual dive you might spot a ship wreck site or something really adventurous.

Kayaking and boating are there, too. For the lighthearted, there's also the simple pedal boat. Check out water scooters, paraglides and jet skis. If you love to venture out further, there's big game fishing in the high seas.
Sponsored Links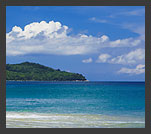 Cruise Destination
Cruise destinations across the
world range from the exotic Caribbean and the Mediterranean
to the Middle East and as far as Alaska. The cruise type varies
from country to country..