Bangaram Island Resort - Hotels Lakshadweep
Some call Bangaram a desert island. We call it paradise. Know why? The abundance of undisturbed sand, a score of flora and fauna, and of course, the stretch of beautiful beaches. The island feels like it was designed specifically for languid strolls. Step out, stretch and watch the beach dances of hermit crabs, or listen to the raucous music of a hundred-piece seabird chorus.

The resort is set in 128 acres of lush greenery. It offers 30 tiled-roof beach huts, each with its own palm-thatched verandah, en-suite bathroom, ceiling fan and fridge. Bigger than the huts, there are four bungalows, too. The restaurant is a little architectural marvel made by the islanders, crafted entirely out of bamboo and palm fronds, around a single tall central pole. There is also a well-stocked bar, right off the beach.

A well-equipped and professionally manned Scuba Diving facility is available at the resort. Diving courses and lagoon diving are offered for beginners. Visitors can avail a decompression chamber, except from 15 May to 15 September. Popular dive spots off Bangaram include Manta Point and the wreck of the Princess Royal, sunk 200 years ago.

Manta rays, eagle rays, moray eels and Hawksbill turtles are common; so, too, are game fish for those who love angling. The uninhabited islands of Tinnakara, Parali and Parali-II are located close by and can be reached by outboarding, sailing, rowing or by kayaking and windsurfing from Bangaram.
Bangaram Island is the ideal place to try an ayurvedic treatment, or even just a relaxing massage. The resort has fully-equipped ayurvedic facilities.
Sponsored Links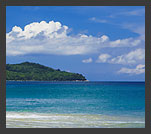 Cruise Destination
Cruise destinations across the
world range from the exotic Caribbean and the Mediterranean
to the Middle East and as far as Alaska. The cruise type varies
from country to country..